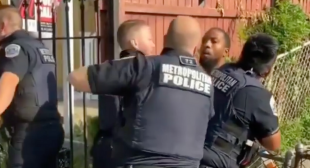 The Washington, D.C. Chief of Police is responding to multiple news reports and a viral video that appears to show a white Metropolitan Police officer repeatedly punching a Black man as two other officers try to restrain the alleged suspect and another cop protects his colleagues from a gathering crowd. It does not appear any of the three police officers did anything to stop the punching by the other officer.
"The officer who threw the punches is on administrative leave pending the Metropolitan Police Department's internal investigation, according to NBC4 reporter Mark Segraves," Washington City Paper reports. "Other MPD officers present when the man was punched are on 'no contact' duty."
"At one point, one of the officers takes his gun out of his holster as he tells the crowd to back away," WTOP adds.