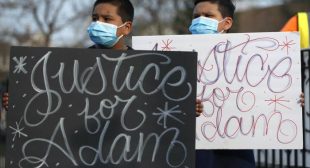 A 13-year-old boy who was shot and killed in Chicago by a police officer had his hands up when the cop fired his weapon, new videos show.
The city's Civilian Office of Police Accountability posted the videos online Thursday along with other recordings and police reports related to the shooting of Adam Toledo, following weeks of protest over the boy's killing and demands to release the body camera footage to the public.
What the videos showed amounted to an "assassination," Adeena Weiss-Ortiz, the Toledo family's attorney, said at a press conference Thursday evening.
"If you're shooting an unarmed child with his hands in the air, it is an assassination," she told reporters.