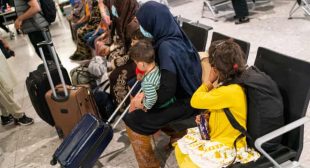 They arrived shoeless and shivering, with some toddlers wearing the same nappies they wore when fleeing their homes days earlier. Volunteers have described the extraordinary dignity and stoicism of the Afghan refugees, including about 2,200 children, who were airlifted to the UK out of the clutches of the Taliban.
Some of the new arrivals were passing out from exhaustion in airport terminals, said Dara Leonard, a team leader for the British Red Cross. Others, including pregnant women and "the sick and incredibly frail" were rushed straight to hospital.
"These were people on the far side of exhausted," said Leonard, who was among the first to meet the Afghan families arriving at Heathrow airport last week.