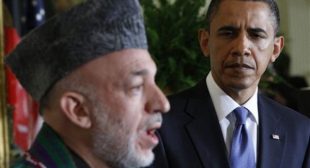 During an interview the departing Afghan president said that he feels "betrayed" by America, which he believes has been "indifferent to Afghan interests" during the war which has waged for over 12 years in the region.
"Afghans died in a war that's not ours," he explained in his first interview in two years.
Karzai said that Al-Qaeda is "more a myth than a reality" much as the 2004 BBC series "The Power of Nightmares" documented.
Karzai further said that the majority of the United States' prisoners have been innocent, like an innocent Algerian national who has been held in Guantanamo Bay for 12 years without charge who was finally released last week.