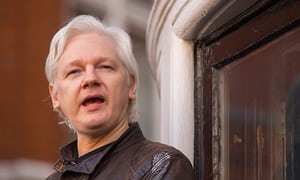 The Crown Prosecution Service is facing embarrassment after admitting it destroyed key emails relating to the WikiLeaks founder Julian Assange, who is holed up in Ecuador's London embassy fighting extradition.
Email exchanges between the CPS and its Swedish counterparts over the high-profile case were deleted after the lawyer at the UK end retired in 2014.
The destruction of potentially sensitive and revealing information comes ahead of a tribunal hearing in London next week.
Adding to the intrigue, it emerged the CPS lawyer involved had, unaccountably, advised the Swedes in 2010 or 2011 not to visit London to interview Assange. An interview at that time could have prevented the long-running embassy standoff.