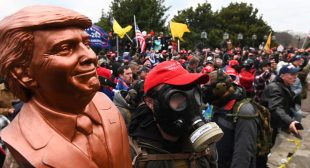 At least 28 law enforcement officers from 12 states have been identified as attendees of the so-called "Save America" rally in support of Donald Trump that sparked the storming of the U.S. Capitol building on January 6, according to news reports that are being compiled by The Appeal. While several officers have been confirmed as forcing their way into the Capitol building, the exact number is still an open question.
Sheriff's Lieutenant Roxanne Mathai in Bexar County, Texas, who has 70 to 80 employees under her command per shift, posted a video to social media showing her walking up the steps of the Capitol, while saying, "We're going in. Tear gas and all. Tear gas don't bother me." In another post, Mathai described the mob attack on the Capitol as "the best day of my life."
An 18-year veteran of the Houston Police Department was identified as holding a Trump flag while breaking into the Capitol building and was placed on leave.