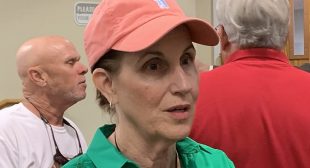 The main donor behind the Washintgon D.C. 'Stop the Steal' rally that sparked a riot on the U.S. Capitol on January 6 has been revealed as the heiress to the Publix Super Markets Inc. chain.
Julie Jenkins Fancelli, a prominent Trump donor, pledged $300,000 to the MAGA rally in an arrangement set up by far-right show radio host Alex Jones.
Fancelli's donation funded most of the event, which cost $500,000 in total to run.
After being initally arranged by Jones, Fancelli tapped Caroline Wren, a top fundraising official on the Trump 2020 campaign, to organize and fund the rally on her behalf.
According to records, Wren and her fundraising consultancy firm were paid $730,000 by the Trump campaign and a joint GOP committee in the 2020 election cycle.