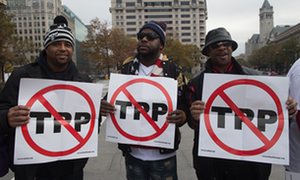 The reports are rolling in: the Trans-Pacific Partnership (TPP) is dead. If you read the obituaries, most news outlets seem to agree that the cause of death was simple: the election of Donald Trump, who railed against the deal during his campaign. But the pundits have the story wrong.
The real story is that an unprecedented, international uprising of people from across the political spectrum took on some of the most powerful institutions in the world, and won.
Sure, Donald Trump – and Bernie Sanders' – campaign focus on the TPP elevated US awareness about the pact, a wide-reaching international agreement negotiated by the Obama administration. But no single politician killed this deal.
If not for the constant pressure from activists and civil society groups, the TPP would have become law long before the recent US election. But thanks to intense, creative and strategic organizing from the day the text was finalized in 2015, there was never a majority of support for the pact in Congress. That's why it was never implemented.