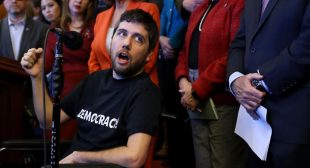 After years of lobbying political candidates and lawmakers in Washington to support Medicare for All and helping to bring the issue to the forefront of the healthcare debate in the 2020 election, advocate Ady Barkan announced Tuesday he is bringing the fight for single-payer healthcare back to his home state of California.
Barkan, who has ALS and is a co-founder of the Be A Hero Action Fund, is launching a project called California Healthcare Conversations to rally support for the state Assembly's Guaranteed Healthcare for All Act (AB 1400).
The bill was introduced in February by Assemblymember Ash Kalra and several other Democratic co-sponsors who want a single-payer healthcare system for California.
Passing AB 1400, said Barkan, would be a major step forward in the fight for a nationwide Medicare for All program.