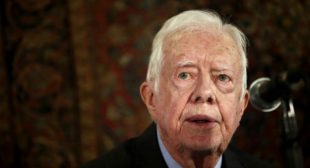 Former President Jimmy Carter (D) predicted that the U.S. will eventually switch over to a universal single-payer healthcare system, the Wall Street Journal reported Sunday.
Carter, 92, made the remarks ahead of teaching his Sunday school class in Plains, Ga.
"When I was in the White House, I tried to get Medicare to cover everyone," he said.
Carter's speech comes as Republicans are struggling in their attempt to repeal and replace ObamaCare in the Senate. A procedural vote on their bill is expected on Tuesday.
Single-payer healthcare programs have been gaining traction among members of the Democratic party, with Sens. Elizabeth Warren (D-Mass.) and Kirsten Gillibrand (D-N.Y.), two potential 2020 presidential candidates, both backing the Medicare-for-all program