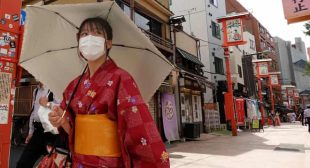 Health experts in Japan have said the country is confronting a coronavirus "disaster" and urged the government to take immediate action to stem a surge in infections.
The warning came as local media reported that spectators will be banned from almost all events at the Paralympics, which are due to open on 24 August.
The government and organisers of the Games will make an official decision next week, Kyodo cited unnamed officials as saying. Media reports said sports fans would be denied admission to venues in Tokyo and Saitama prefectures, although a limited number could attend events in Shizuoka prefecture, which does not border Tokyo. Organisers are reportedly considering inviting schoolchildren to venues.