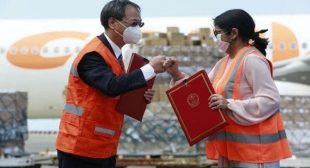 After pointing out that it was the ninth shipment sent by Chinese authorities, she recalled that over 274 tons of equipment, medical inputs, and medicines have been received so far this year.
Rodriguez also mentioned that Venezuela is nowadays a victim of U.S. blockade that hinder her country's efforts to acquire good and services in the international market and to face the COVID-19-triggered recession.
"There is no blockage that can be done with Conviasa, or with the Venezuelan people, or with the China-Venezuela relationship," she added.