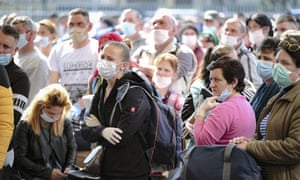 The health threat facing fruit and vegetable pickers flown in from quarantined Romania underlines Europe's inequalities, say Costi Rogozanu and Daniela Gabor.
Many farm owners seem happier in any case to have rapid access to the "easterners". In the words of one German farmer interviewed by the tabloid Bild: "Most Germans are not used to working stooped in the fields for hours on end. They complain about backache. Romanians and Poles are stronger and they work weekends and public holidays."
It turns out that besides a steely back, the Romanians and Bulgarians also need to be so desperate for work they don't dare ask for a pandemic wage premium even if the employer requires them to work 12 hours a day, seven days a week, since switching farms will not be an option. For the duration of the contract they remain at the mercy of the employer, who alone has the power to organize the return journey.
German trade unions have denounced the pact and are demanding decent pay, working conditions and coronavirus protection measures.