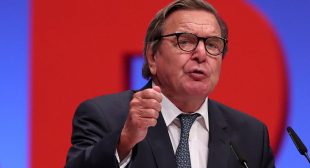 The United States would like to weaken Russia's energy cooperation with the European Union, said former German Chancellor Gerhard Schroeder, adding it's unacceptable to create barriers to Russian gas deliveries to the German market.
"It's wrong if the Americans and the European Union somehow resist each other on this issue. And still there are attempts to create some difficulties for this project [Nord Stream 2 gas pipeline – Ed.]," he told Rossiya 24 news channel.
According to Schroeder, "the fact the Americans will try entering the German market with the help of sanctions and to dominate with its liquefied shale gas is nothing but the signs of an economic war, and such war is unacceptable."
Germany is interested in gas which it "will receive for sure and which will be cheaper than shale gas," said Schroeder.