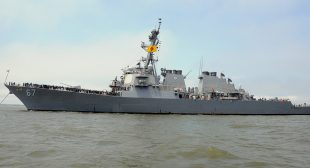 The US has deployed an Arleigh Burke-class destroyer off the coast of Yemen, according to media reports. The battleship will protect US interests in the region following an attack on a Saudi military vessel which killed two sailors.
The USS Cole, which was targetted in an Al-Qaeda attack off the same shores in 2000, was allegedly redeployed from its operations in the Persian Gulf to a new station in the Bab al-Mandab Strait near Yemen. The USS Comstock and the USS Makin Island are also deployed in the same area as the Cole.
"They were moved down to the region in response to what happened to the Saudi frigate," an anonymous official familiar with the matter told AFP.