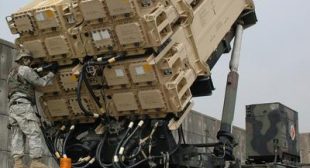 At least five American-made Patriot missiles apparently missed, malfunctioned, or otherwise failed when Saudi forces tried to intercept a barrage of rockets targeting Riyadh on March 25.
That's bad news for the US military and its closest allies, who are counting on the Patriot to stop large-scale enemy attacks during a major war.
The ground-launched, radar-guided Patriot missile, which is 19 feet long in its basic version, has been controversial since shortly after its introduction in 1984. It missed many of its targets during the 1991 Gulf War. Twelve years later during the US-led invasion of Iraq, Patriot crews shot down two allied warplanes, killing three crew members.
"It's nothing but an unbroken trail of disasters with this weapon system," Theodore Postol, an MIT physicist and prominent critic of US missile defenses, told me.