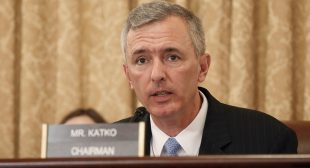 Rep. John Katko (R-N.Y.), the first Republican lawmaker to publicly support efforts to impeach former President Donald Trump, is speaking out about the deadly Capitol riots that erupted on Jan. 6 as lawmakers worked to complete the Electoral College certification.
Although the American public watched in shock and dismay as the disturbing series of events unfolded, Katko insists the riots were far worse than reported on television. During an interview with Syracuse.com, Katko shared details about the day of the deadly U.S. Capitol riots.
While he could not offer specific details about the classified briefings he has received, he did reveal that the incident was far worse than reported.
"I've had a lot of classified briefings on it, and it's deeply troubling," Katko told Syracuse.com. "I was left with a profound sense that it was much worse than people realized."