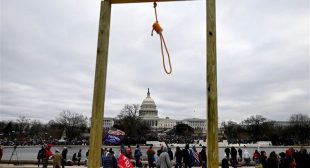 Small groups of right-wing protesters — some of them carrying rifles — gathered outside heavily fortified statehouses around the country Sunday, outnumbered by National Guard troops and police brought in to prevent a repeat of the violence that erupted at the U.S. Capitol.
As darkness began to fall, there were no reports of any clashes.
Security was stepped up in recent days after the FBI warned of the potential for armed protests in Washington and at all 50 state capitol buildings ahead of President-elect Joe Biden's inauguration on Wednesday.