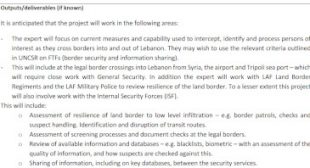 A few month ago we reported on documents which revealed secret British 'Strategic Communication' programs in support of the Jihadis who fight against the Syrian people and their government.
In December documents of a different secret program revealed similar British efforts in Lebanon. These were designed to influence certain 'liberal' youth groups in preparation for a 'color revolution' that would overthrow the Lebanese government.
A new set of documents, just recently published, shows British efforts to influence and infiltrate the security forces of Lebanon. These programs are coordinated with Canadian and U.S. efforts to gain influence in the country and to use it on behalf of Israeli interests.
Like usual these programs are sold as white man's burden efforts to 'help' the indigenous people and their governments. But they are in fact undermining the sovereignty of the country and hinder the self determination of its people.