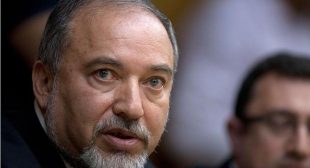 Israel's defence minister has said the army will stop at nothing in future conflicts in Gaza or Lebanon.
"It doesn't matter where the next conflict breaks out, it has to be at full strength," Avigdor Lieberman told a conference at the Institute for National Security Studies.
"You recruit the entire army, the entire reserves; you go full strength until the end, until the other side yells 'gevalt' and raises a white flag. We don't stop in the middle."
"If a quarter of the [Gaza] Strip is needed, then we occupy a quarter of the Strip. If more, then more," he said, according to Haaretz.