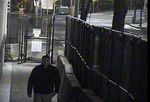 An armed man upset about the results of the 2020 presidential election fired five shots into the side of Portland's federal courthouse on Friday, according to court documents filed in federal court Sunday.
Cody Levi Melby, 39, reportedly climbed over the temporary security fence erected this summer to keep racial justice protesters outside the federal courthouse before he opened fire on the building, the documents state. No one was injured in the attack.
The U.S. Attorney's Office charged Melby with destruction of property, a federal misdemeanor. The Multnomah County District Attorneys Office also charged Melby with two felonies, including unlawful use of a firearm, as well as several misdemeanors
During a video court appearance on Monday, he pleaded not guilty.