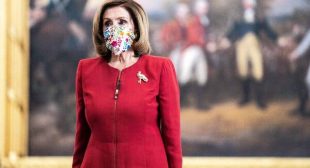 A man who had an assault rifle was charged with threatening Nancy Pelosi, the House speaker, after he traveled to Washington for the pro-Trump rally on Wednesday and sent a text message saying he would put "a bullet in her noggin on Live TV," the federal authorities said.
Federal agents said the man, Cleveland Grover Meredith Jr., had been staying at a Holiday Inn in Washington and had weapons in his camper-style trailer, including a Glock handgun, a pistol, a Tavor X95 assault rifle and hundreds of rounds of ammunition.
Mr. Meredith was charged with transmitting a threat in interstate commerce, possession of an unregistered firearm and unlawful possession of ammunition, according to court records. It was not immediately clear if he had a lawyer.
The Department of Justice said on Friday that he was one of 13 people who had been charged in federal court after a violent pro-Trump mob stormed the Capitol on Wednesday and disrupted Congress as it was certifying the results of the presidential election.