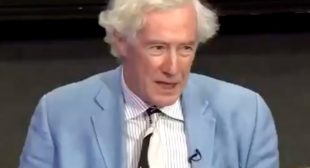 The former supreme court justice Jonathan Sumption has been criticised for telling a woman with stage 4 cancer that her life was "less valuable" during a televised discussion of the costs of coronavirus lockdowns.
Appearing on the BBC One show The Big Questions on Sunday to discuss the question of whether lockdown was "punishing too many for the greater good", Lord Sumption, one of the most prominent anti-lockdown campaigners, said he did not accept that "all lives are of equal value".
The former justice, who served on the supreme court until 2018, said he believed his children's and grandchildren's lives were "worth more because they've got a lot more of it ahead".
Responding to Sumption's remarks, Deborah James, who has stage 4 metastatic bowel cancer and hosts the BBC's You, Me and the Big C podcast, said: "With all due respect, I am the person who you say their life is not valuable."