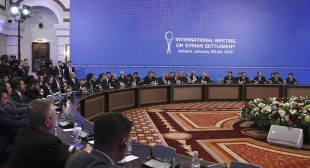 Mohammed Kheir Jasim al-Nadir said that while some Syrian leaders have indeed taken bribes from Saudi Arabia and stayed in the country, he refused the offer and went to serve Syria instead.
"Saudi Arabia offered us money to break away from Assad and oppose the Syrian government. We were offered it (the bribe) at the house of the Syrian ambassador to Riyadh Mahdi Dakhlallah," al-Nadir said.
"They tempted us with houses and money. They gave us a blank check which could be filled out with any sum, if we announced a U-turn. But, as they say, a person who is good does the right thing for their country, for their people. Nobody can be separated from their people, nobody can abandon their homeland. We are with Syria, with our land, with the valiant Syrian army."
"Unfortunately, some Syrian leaders left for Saudi Arabia because of money. I had a Saudi passport, but I left everything and went to Syria," al-Nadir said.