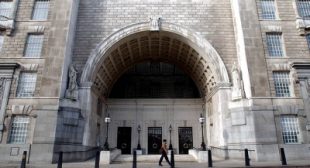 Evidence produced in a New York courtroom by a London-based 'Islamist hate preacher' last week is yet more grist to the mill that the notorious Abu Hamza was indeed an agent of Britain's counterintelligence service, MI5.
Convenient too for the British establishment that the trial was 'outsourced,' taking place three thousand miles across the Atlantic where MI5's culpability will not be under scrutiny.
As Hamza's lawyer, Joshua Dratel, waved the Scotland Yard documents proving the cleric was an MI5 "intermediary," he was reminding the court of MI5 'grooming' of Hamza going back to 1997, well before the 9/11 attacks or the so-called War On Terror. By 2000 London's Finsbury Park Mosque trustee, Mufti Abdul Barkatulla, was pleading with Scotland Yard to curb the cleric's activities as London's cheerleader for Osama Bin Laden, but MI5 demurred; they saw the Islamist as a useful 'intelligence honeypot' to watch.