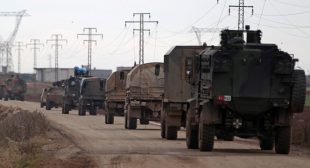 Kremlin spokesman Dmitry Peskov confirmed to Sputnik that Russian President Vladimir Putin expressed condolences to Turkish President Recep Tayyip Erdogan over an accidental Russian airstrike that had killed Turkish soldiers in Syria.
Peskov said that Russia and Turkey will jointly investigate the deadly incident. The Kremlin spokesman said that Putin told Erdogan that Turkish soldiers had died as a result of lack of coordination regarding coordinates during Russian military jets' strikes in Syria.
Russia and Turkey will improve coordination of activities in Syria after the unintentional strike, Peskov said.