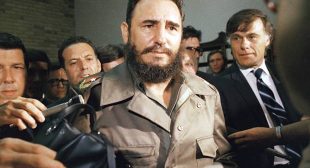 In the wake of the passing of Cuba's revolutionary leader Fidel Castro, there has been no dearth of discussion of the island nation's human rights violations.
For starters, it is the definition of hypocrisy for such criticisms to come from the United States, which for more than 50 years waged a campaign of terror against Cuba. The United States' own human rights abuses have ranged from carrying out at least 638 assassination attempts to training and harboring of right-wing terrorists, as well as staging an outright military invasion and torturing detainees at Guantánamo Bay.
U.S. politicians' talk of human rights in Cuba is ludicrous considering our government's history of supporting far-right death squads throughout Latin America, extremist paramilitaries that have waged horrific campaigns of terror against civilians in countries like Nicaragua, murdering, torturing and raping men, women and children.
Even more outrageous is the utter silence on the exponentially worse crimes of numerous American allies. Cuba certainly does not have a perfect human rights record. But what country does? Where are the U.S. politicians condemning the much more egregious crimes of our allies?
Since Castro's death, there has been a torrent of articles published about Cuba's abuses. Where are all the think pieces on Saudi Arabia, a close U.S. ally and one of the most oppressive regimes in the world? This is a theocratic absolute monarchy that carries out mass executions of dissidents, beheads drug dealers, systematically subjugates women and has supported extremist groups like al-Qaida and ISIS and yet receives glowing support from the U.S.