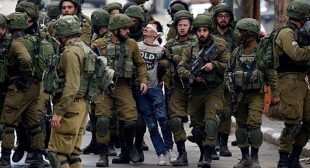 Fawzi al-Junaidi, 16, will be taken in for a hearing in Israel's military court today, after being held for more than a week in Israeli detention.
Junaidi was detained during clashes that erupted in the occupied West Bank city of Hebron on Dec. 7, the day after U.S. President Donald Trump announced the U.S. would recognize Jerusalem as the capital of Israel.
A photo taken by photographer Wisam Hashlamoun during the arrest went viral, as it showed the disoriented and blindfolded teen being manhandled, surrounded by at least twenty fully-armed Israeli soldiers as he was taken away.
Brad Parker, the International Advocacy Officer & Attorney for Defense for Children International – Palestine (DCIP), told Mondoweiss that the photo should be seen as a symbol of Israel's normal practices concerning Palestinian children, and not a special circumstance.