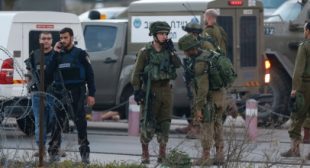 THE LAST TIME Fawziya Shaalan saw her son alive was February 26, 2016. After eating lunch, Mahmoud, a 16-year-old Palestinian-American living in the West Bank, decided to go on an afternoon walk. This was routine; it was a way for Mahmoud to deal with his rheumatism, a disease that inflames joints and muscles.
Once outside, the Florida-born teen descended the steps of his spacious house in Deir Dibwan, a stately village dotted with summer homes for Palestinian-Americans returning for visits. Wearing a black North Face hoodie and blue jeans, Mahmoud started on the path toward Al-Bireh, the city adjoining Ramallah where his aunt lived. He liked to surprise her by showing up unannounced.
What happened next is disputed.
According to S.A., the soldier guarding the entrance to Ramallah ordered Mahmoud to stop and turn back. Instead of immediately following orders, Mahmoud made gestures to show he wanted to go to Ramallah and lifted up his shirt and hands, as if to show the soldier he was not a danger. Then, the witness says, Mahmoud began to go back, but the soldier, standing 6 to 10 feet away, shot him multiple times. Mahmoud fell to the ground.
"He was shot when his hands were up," S.A. told The Intercept, in his first remarks to a journalist. S.A., who provided testimony to the Israeli human rights group B'Tselem soon after the incident, requested that his full name be withheld because he feared that media attention would lead to retaliation from the army.
The soldiers removed Mahmoud's clothes as he lay on the ground bleeding. Kamal Washaha, a volunteer ambulance driver with the Palestinian Civil Defense, arrived at the scene shortly thereafter.
"They shut down the checkpoint, and the soldiers prevented us from approaching the body, which we saw was lying on the ground," Washaha told The Intercept.