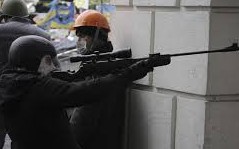 Why does Western media ignore critical information about the snipers that killed Euromaidan protesters in Ukraine?
Support it or oppose it, a coup d'état took place in Kiev after an EU-brokered agreement was signed by the Ukrainian government and the mainstream opposition on Feb. 21. The agreement called for power sharing between both sides through the formation of a national unity government and for an end to the opposition-led street protests in Kiev. President Viktor Yanukovych ordered the Ukrainian police and security forces to withdraw from their positions, and even earlier, he had made multiple concessions to the opposition leadership.
Instead of keeping its end of the bargain, the Ukrainian mainstream opposition executed a coup through the use of violence by organized ultra-nationalist gangs, which some analysts have compared to stay-behinds or secretive militias that were created by NATO during the Cold War.