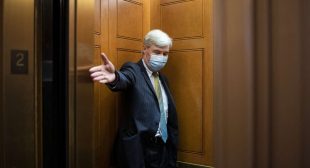 Linking the January 6 assault on the U.S. Capitol with a protracted effort by secretive right-wing groups and wealthy GOP contributors, Sen. Sheldon Whitehouse on Friday called for investigating dark money organizations and influential donors who allegedly organized and funded the deadly attack in a failed bid to overturn the results of the 2020 presidential election.
"The attack on the Capitol on January 6 was the culmination of a monthslong disinformation campaign designed to allow President [Donald] Trump to remain in office," Whitehouse (D-R.I.) wrote in a letter (pdf) to Sen. Bennie Thompson (D-Miss.), chair of the Select Committee to Investigate the January 6th Attack on the U.S. Capitol, also known as the commission.
"Public reporting indicates that this campaign was organized and funded by dark money organizations and powerful donors, and aided and abetted by members of Congress and the Trump administration," he continued.