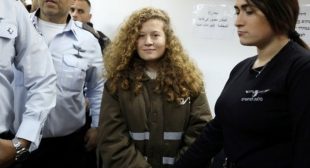 Mohammed Tamimi was hit by a rubber bullet fired by an Israeli soldier which was the cause of Ahed's altercation with the Israeli troops.
Nearly 10 Palestinians, including five minors, were abducted and detained by the Israeli forces, during a raid in the West Bank village of Nabi Saleh village, in the early hours of Monday, Haaretz has reported.
All of those arrested belong to the Tamimi family, linked to 17-year-old Ahed Tamimi, the Palestinian teen who is currently in detention and awaiting her trial for slapping an Israeli soldier. She has become an international symbol of the Palestinian resistance.