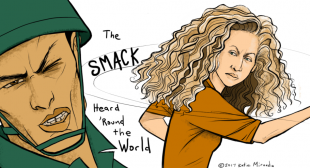 As Ben Ehrenreich writes at the Nation, Israel's response to the slapping exposed "a hideous nerve" in that society. Scott Roth detailed that nerve: Israelis are in "sheer denial" that their country has any responsibility for the "humiliation, violence, and terror of the occupation."
Which brings me to liberal Zionists. I care more about them than anyone else in America because they are gatekeepers to the Democratic Party, and when the Democratic Party turns, Israel will become a partisan issue and we will win (because Chuck Schumer and Tom Perez and Haim Saban have more power over the Palestinian future than John Hagee and Sheldon Adelson).
The Tamimi case exposes the utter paralysis of liberal Zionists, their inability to face what Israel has become.