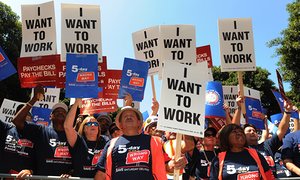 Labor and economic equality used to be at the heart of liberal politics. Rich professionals expunged these concerns and have reaped the consequences.
That makes 2016 a disaster for Democrats is not merely the party's epic wipeout in Washington and the state capitals, but that the contest was fought out on a terrain that should have been favorable to them.
This was an election about social class –about class-based grievances – and yet the Party of the People blew it.
How that happened is the question of the year, just as it has been the question of other disastrous election years before. And just like before, I suspect the Democrats will find all manner of convenient reasons to take no corrective action.