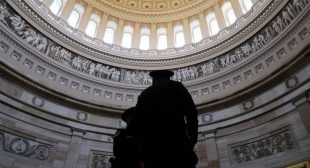 After seeing one of their colleagues killed last Wednesday, Capitol Police officers are angry that Republican members of Congress refuse to submit to the security changes put in place since then, and say they wouldn't even be surprised if some lawmakers helped organize the attack.
Officers told BuzzFeed News that members of Congress often see security as optional. Even after last week's deadly attack, some Republican members refused to go through metal detectors, pushing their way past Capitol Police officers.
"Officers are fuming and there are mumbles of several walking off the job," one officer with more than 10 years on the force told BuzzFeed News — just as Republicans took to the floor last night to rail against even basic security measures. At one point today, officers set up tables around the metal detectors in an effort to block Republicans from just walking by them.