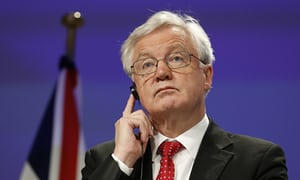 The British government has less than a month to make a concession on the Brexit bill in order to guarantee launching trade talks in December, the Guardian understands.
Senior officials in Brussels say talks have stalled since Theresa May's Florence speech and warn the EU will find it difficult to agree to trade talks at a December summit unless the prime minister offers more on the Brexit divorce settlement.
There remains "a lot to do on financial obligations", Italy's Europe minister Sandro Gozi said on Tuesday, after meeting the Brexit secretary, David Davis, in Rome.
One senior diplomat told the Guardian that the EU would not give way on the negotiation timetable, as it wanted the security that the UK would sign up to share the EU's debts and pension liabilities, although it was not seeking a number. "When we drafted the guidelines we knew we would reach this moment," the diplomat said, referring to the standoff.