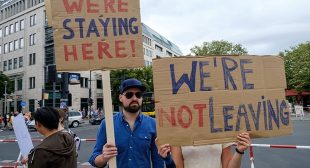 The Labour leader called on the government to make a commitment that EU nationals currently living in the UK would be free to continue to do so, saying the failure to do so amounted to "playing political games with people's lives".
As yet the British government has refused to make such a commitment. As a result there has been almost a 50% increase in the number of EU citizens applying for permanent residency documentation since the vote on 23 June. The number of applications rose from 36,555 in the three months to June 2016 to 56,024 in the three months to September, according to the latest figures.
EU nationals say that to obtain permanent residency cards they have to complete an 85-page form requiring huge files of documentation, including P60s for five years, historical utility bills and a diary of all the occasions they have left the country since settling in the UK. Some have received letters inviting them to prepare to leave the country after failing to tick a box on a form.