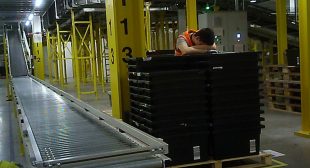 Drivers are being asked to deliver up to 200 parcels a day for Amazon while earning less than the minimum wage, a Sunday Mirror investigation reveals today.
I hopped in a white van to spend a day with one driver and experience first-hand the intolerable pressures they face from "impossible" schedules.
Many routinely exceed the legal maximum shift of 11 hours and finish their days dead on their feet.
Yet they have so little time for food or toilet stops they snatch hurried meals on the run and urinate into plastic bottles they keep in their vans.
They say they often break speed limits to meet targets that take no account of delays such as ice, traffic jams or road closures.