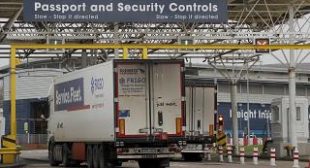 Official UK figures in March showed the UK recorded a record fall in trade with the EU in January, as the economy struggled with post-Brexit rules and the pandemic.
Goods exports plunged by 41% and imports by 29% as the UK's departure from the EU's single market had a major impact, as did additional bureaucracy and sometimes unexpected costs and taxes.
Nearly a quarter of small UK firms surveyed said they had temporarily halted sales with the EU because of post-Brexit rules, according to a report by the Federation of Small Businesses in late March.