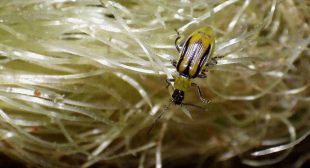 Genetically modified corn, which produces anti-pest toxin, is no longer as efficient at killing the bugs. The resistance arose quickly, due to some extent, to farmers avoiding the simple, but profit-cutting precaution of crop rotation.
The problem that may soon render null the economic and environmental benefits of GM maize, which produces the so-called Bacillus thurinigiensis (Bt) toxin, was highlighted in a study published online in this week's Proceedings of the National Academy of Sciences.
In the paper, a team led by Aaron Gassmann, an entomologist at Iowa State University in Ames, described the rise in some Iowa fields of a bug called the western corn rootworm (Diabrotica virgifera virgifera).
The studied pest has developed resistance to two of three types of Bt toxins currently available on the market.
The vulnerability of GM corn could lead to disastrous consequences for farmers and the environment, Gassmann warned.