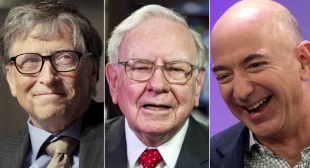 The three richest people in the United States – Bill Gates, Jeff Bezos, and Warren Buffett – have a total wealth that exceeds the savings of America's poorest 160 million, a new study shows.
The three billionaires are sitting on a combined $248.5 billion fortune, which outstrips the combined net worth of an estimated 160 million Americans, or 53 million US households. The study entitled Billionaire Bonanza 2017 was compiled by the Institute for Policy Studies.
"So much money concentrating in so few hands while so many people struggle is not just bad economics, it's a moral crisis," said Josh Hoxie, the report's co-author.