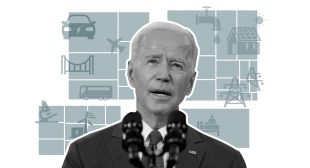 President Joe Biden on Wednesday introduced a sweeping $2 trillion infrastructure and jobs package that looks to reshape the American economy and make the most significant domestic U.S. investments in generations.
His far-reaching American Jobs Plan includes spending to repair aging roads and bridges, jump-start transit projects and rebuild school buildings and hospitals. It would also expand electric vehicles, replace all lead pipes and overhaul the nation's water systems.
But the plan goes far beyond infrastructure.
It's as much a jobs program – one that looks to build the nation's clean energy workforce, expand manufacturing and boost caregiving as a profession to serve the elderly and disabled.
"Put simply, these are investments we have to make," Biden said. "Put another way, we can't afford not to."