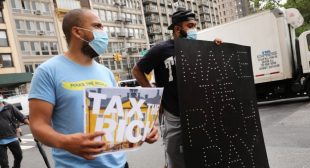 More than a year after the coronavirus pandemic and the corresponding economic crisis began, a new analysis out Wednesday shows that as 2020 ended, the richest 10% of Americans possessed just under 70% of the nation's household wealth.
According to the report by financial news website Finbold, which looked at the final quarter of 2020, that top bracket of rich individuals accounted for 69.2% of wealth, including real estate, bank accounts, stocks, and other assets.
Nearly half of those assets are concentrated in the wealth of the top 1%, who own a combined $38.91 trillion. Nearly $47 trillion is owned by the remaining top 9% of rich households.
The bottom 50% of earners, meanwhile, control a combined $2.49 trillion—or 2% of U.S. household wealth.