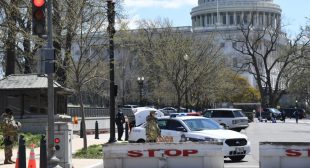 The U.S. Capitol was placed under lockdown Friday after a person rammed their vehicle into a security barricade at the complex, killing one officer and injuring another.
After ramming the barricade, the driver reportedly exited the vehicle with a knife, stabbed one of the officers, and was shot by Capitol police.
During a press briefing, Acting U.S. Capitol Police Chief Yogananda Pittman officially announced the death of the suspect and one of the officers.