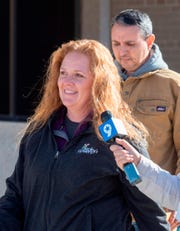 A woman accused of participating in the riot Jan. 6 at the U.S. Capitol asked a federal judge for permission to leave the country on vacation this month.
In a court filing Monday, lawyers for Jenny Louise Cudd requested the court's blessing to travel to Mexico's Riviera Maya from Feb. 18-21 for a prepaid "work-related bonding retreat" with her employees and their spouses.
Cudd, a small-business owner in Midland, Texas, is on pretrial release after being charged with two misdemeanor offenses, including entering a federal building without permission and engaging in disorderly conduct.