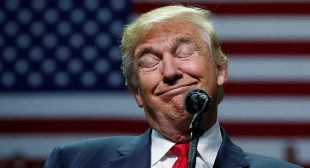 The US is not as innocent as it may seem, according to President Donald Trump. When Fox News host Bill O'Reilly called Vladimir Putin "a killer," Trump responded: "We've got a lot of killers."
In an interview to be aired ahead of the Super Bowl later on Sunday, Bill O'Reilly asked if Trump respects Russian President Vladimir Putin, to which the he replied, "I do respect him. Well, I respect a lot of people, but that doesn't mean I'll get along with them."
Seemingly surprised, O'Reilly goes on to ask him why.
"He is the leader of his country. I say it's better to get along with Russia than not, and if Russia helps us in the fight against ISIS – which is a major fight – and the Islamic terrorism all over the world, that's a good thing," Trump answered.
"Will I get along with him? I have no idea."
O'Reilly then challenged Trump, calling the Russian president "a killer."
Trump shrugged the comment off, saying: "There are a lot of killers. We've got a lot of killers. What, do you think our country is so innocent?"
It is not the first time that Trump has made such comments when journalists question his stance regarding the Russian leader.
At the end of 2015, the host of MSNBC's Morning Joe told Trump that Putin "kills journalists," to which the unfazed then-presidential candidate replied, "I think that our country does plenty of killing, too, Joe."