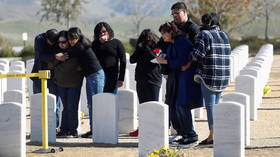 The number of people who have died in the US due to Covid-19 climbed to over 40,000 on Sunday, according to calculations by Reuters.
The American death toll is the highest in the world and is almost two times larger than the figures from Italy, which is currently ranked second in terms of fatalities.
The death toll has jumped from 30,000 to 40,000 in just four days after the untested but probable coronavirus fatalities were added to the numbers. The first American succumbed to the coronavirus on February 29.
Italy, which remained the world's hardest hit country for weeks, has so far recorded 23,660 deaths due to the highly-contagious disease. The US is also the international leader in the number of confirmed Covid-19 cases, with more than 744,000 testing positive.