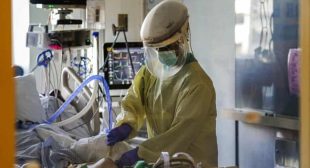 More than 400,000 Americans have now been killed by the coronavirus, a horrific marker of the misery the virus has spread across the country, as the rate of deaths from Covid-19 increases.
The Johns Hopkins University Coronavirus Resource Center reported 400,022 people had died. The burden is disproportionately borne by people of color.
Months of death are still ahead for the US, as people recently infected by the virus become ill and perish. A forecast assembled by the US Centers for Disease Control and Prevention (CDC) predicts that the death toll could be 477,000 by 6 February.