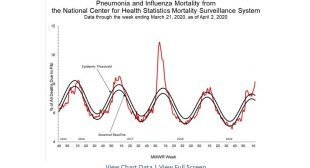 The Trump administration has used the novel coronavirus pandemic to malign its perceived enemies. Now as the U.S. itself is at the center of the pandemic the accusations and lies come back to bite.
On March 21 the Daily Beast reported of an upcoming propaganda campaign the White House was launching against China:
As the number of coronavirus cases continues to grow at a rapid pace in the U.S., the White House is launching a communications plan across multiple federal agencies that focuses on accusing Beijing of orchestrating a "cover-up" and creating a global pandemic, according to two U.S. officials and a government cable obtained by The Daily Beast.
The cable, sent to State Department officials Friday, lays out in detail the circumstances on the ground in China, including data on coronavirus cases and deaths, the local business environment and transportation restrictions. But it also issues guidelines for how U.S. officials should answer questions on, or speak about, the coronavirus and the White House's response in relation to China.
The talking points appear to have originated in the National Security Council. One section of the cable reads "NSC Top Lines: [People's Republic of China] Propaganda and Disinformation on the Wuhan Virus Pandemic."
Soon the mainstream media started to spread the new talking points. A Google News search for the search term "China Cover-up" now finds 449.000 results.