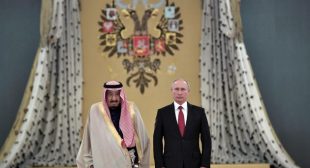 The House of Saud was horrified by Russia's successful campaign to prevent regime change in Syria. Moscow was solidifying its alliance with Tehran. Hawks in the Obama administration were imposing on Saudi Arabia a strategy of keeping oil prices down to hurt the Russian economy.
Now, losing all its battles from Syria to Yemen, losing regional influence to both Iran and Turkey, indebted, vulnerable and paranoid, the House of Saud has also to confront the ghost of a possible coup in Riyadh against Crown Prince Mohammad bin Salman, a.k.a. MBS, as Asia Times reported. Under so much pressure, who're you gonna call?
The ultimate ghostbuster; Russian President Vladimir Putin.